May 17, 2021
21 Linen & Uniform Service Recruiting Tips for 2021 (Textile Services Magazine)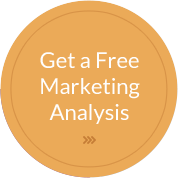 Just as companies in our industry have gotten creative in how they attract customers, they must now deploy similar creative techniques to recruit talent. Whether your need is for production employees on the floor, or managers and executives to lead the team – here are twenty one tips from a laundry industry-experienced headhunter to improve your talent acquisition and retention efforts:
Request Candidate Info
Schedule a Free Consultation
1) Finding Production Employees and Filling Entry Level Positions – Tip #1 addresses the concern we're hearing a lot from operators: "How can I hire production employees when expanded unemployment benefits are still in effect (an extra $300/week through September 6, 2021 at the time this was written)?" That's a really tough question and there isn't a great answer, but I can offer a couple tips when you promote this type of job opening. First, emphasize the benefits the employee would be entitled to besides compensation – for example health insurance and retirement plans, which those claiming unemployment are unlikely to have. My next tip depends on which state you are in. Some states (NY for example) will allow partial unemployment eligibility for part time workers – meaning you may attract some new hires to work 30 hours per week or less and they could still claim partial unemployment benefits including the stimulus. Finally, if you're advertising a job online, be prepared to increase your budget. Most job boards incur costs for each impression or view, and with so many companies looking to fill similar positions, and job posting volume at a high, your budget won't go as far as it used to, and when you budget runs out, your job will not appear in search results. You may want to consider working with a recruiter to optimize your budget and manage your job campaigns.
The remainder of these tips are universal and can help attract talent for any position type at any level.
2) Compel Candidates with Your Careers Page – Successful career sites should be designed to be informative and to excite candidates about the idea of working for your company. Your career site needs to lead with what candidates care most about – tangible benefits like PTO, insurance, and retirement – and intangible benefits like growth opportunities, positive workplace culture, and reviews from your current team members. Videos posted on your careers site will make a great impression and can communicate all of the above. 
3) Optimize for Search and Mobile – More than 70% of active candidates start their job search on Google, according to a survey by iCIMS. Employers should use natural language that candidates understand in job posts and include information that will propagate to Google's job cards – such as job location, salary range and experience required. The percentage of candidates using mobile devices to apply has doubled in the last three years and shows no sign of slowing down. Be sure your careers page has been optimized so that candidates can apply while on mobile devices. 
Source: iCIMS, The Candidate Experience Report
4) Simplify the Application Process – Gone are the days of lengthy employment applications. If you're asking tons of questions on your application, it is surely detrimental to your recruitment efforts. You can ask for more detailed information from candidates if you decide to move them forward in the hiring process. Applying should be as simple as a few clicks and/or uploading a resume or submitting a LinkedIn profile.
5) Which Job Board? All of Them, Plus Social Media – There's no answer to the question of which job board will provide better results. The best approach is to use as many of them as possible, plus all of the common social media outlets. The catch: it can be very time consuming. Research which job board has more candidates relevant to your specific opening and use automated screening questions to eliminate candidates that do not have the desired experience. The other catch: it's expensive. Watch what you spend, and keep in mind that you're only accessing active candidates (people looking for a new job) with paid ads. 
6) Revamp Your Employee Referral Program – Encourage your employees to participate with a referral reward program. Rewards do not need to be elaborate – a small bonus, team lunch, or paid time off are inexpensive and create friendly competition. Communicate these programs in the break room and at every team meeting. These programs work especially well for sourcing production and driver/RSR candidates.
7) Reviews and your Employer "Brand" – According to a survey by Fractl, one in three workers has turned down a job offer after reading negative reviews about a company online. Whether they are true or not, your potential employees are reading reviews about working for you on sites like Glassdoor, Indeed, Facebook, and LinkedIn. As a leader of your company, I would recommend reading them (Google your company name and 'employee reviews') and bringing them to your management team's attention. It's also important to respond to any online criticism in a way that rises above the negativity and shows that the organization is genuinely committed to improving.
8) Maintain a Pipeline of Passive Candidates – Savvy employers will keep a list of nearby potential talent who could be candidates for key roles should they become open. Know your market – both local and industry wide – or consider working with a recruiter that knows qualified passive candidates (currently employed elsewhere) that wouldn't otherwise see your job ads or postings.
9) Change the Game with AI – Businesses and recruiters are increasingly using Artificial Intelligence to reach out to passive candidates, streamline the application process, assess candidates' aptitude for specific roles, and optimize job advertisements. There are lots of options, many with a hefty price tag. Modern recruiters will use these tools to conduct searches and place candidates.
10) Video Speaks 10,000 Words – Video can help you converse with candidates remotely, including those that may require relocation. You can even record interviews for feedback from other team members and to assess personality traits. Producing videos to showcase your organization's environment, culture, and what the job entails is becoming increasingly popular.
11) Track Where Your Hires Come From – Tracking source of hire (referrals, applicants, or which job board, etc.) will help you distribute your hiring resources to the most effective recruiting channels. You should also track your spending in each channel to determine how cost effective it is. Direct more resources to the most valuable channels and adjust or drop the underperforming sources.
12) Recruit with Flexibility – One perk that's increasingly prioritized by job seekers is flexibility. According to a 2019 survey conducted by the International Workplace Group, 80% of respondents said they'd choose the job offer that came with flexibility over the one that did not. Furthermore, 85% of businesses responded that productivity increased in their workplace due to more flexibility. Offering flexibility as a job perk, i.e., allowing employees to work some time from home and other hours at the office, can help you gain an advantage. 
Source: International Workplace Group Workspace Survey
13) Consider Hiring Part-Time Contributors – If the full-time talent you seek is too difficult to find or excessively costly to hire, considering filling the position with multiple part-time employees who have embraced the gig economy. I'm betting this is a trend we will see more of. Many people would now rather work less (and even make less or give up benefits) versus work 40+ hours per week. Promoting flexible full-time, part-time or per-diem options will appeal to a larger number of candidates.
14) Properly Analyze Compensation – At Infinite Laundry, we provide complementary compensation analysis to our recruiting clients. This is a critical step. You can use websites like Glassdoor to see what other employers in your market are paying for similar positions. If you want to attract talent from a specific competitor, you'll need to beat their compensation. Attracting experienced candidates will require compensation that is of fair market value, and this info should be included in the job posting.
15) Secure Talent by Making Offers Quickly – Candidates expect a speedy hiring process. Once you've identified a qualified candidate, get them interviewed quickly. Remember that in this "employee's market," qualified people aren't going to wait. Two interviews should be enough, with three being the max. Assessments are a great tool, but they should be scored quickly, and multiple assessments may offend your candidate. If you're no longer considering a candidate, let them know right away. Your entire hiring process, from initial interview to offer, should be about 2-3 weeks.
16) Pay-for-Performance vs. Pay-for-Potential – Pay for performance is the compensation system Boomers typically use to set and increase pay. It's what most who've been working for a while are used to: salaries increase slowly and steadily the more you work, and bonuses that are paid if/when goals are reached. This is great for a sales position, but younger generations in other positions may see the incentive pay as "pay at risk." For this reason, you should consider a pay for potential ideology. This philosophy levels the playing field based on what each employee brings to the table and how well they leverage their competencies. It's a new concept that gets rid of "the more years you work, the more money you should make" mentality, recognizes individual talent, and attracts younger, high-potential talent.
17) Start an Internship Program – Internship programs offer tremendous benefits to businesses in terms of increasing productivity and recruiting well-suited staff members—especially in small- to medium-sized organizations. You can test drive the talent, take advantage of low-cost labor (almost all interns are paid these days), bring in fresh ideas and energy, and find future full-time employees. The laundry industry needs to improve our efforts to bring a new generation of talent into the industry, and internships are a great way to do that. Infinite Laundry offers intern recruiting and program planning assistance.
18) Engage New Hires Fast and 'Preboard' Them – Candidates are never really yours until they show up for work on their first day. In this labor market, candidates have options and could 'ghost.' Employers share responsibility for this trend: 4 in 10 employees say they've experienced a lack of communication between the time they accepted a job and their first day of work. Maintain regular contact with new hires before they start. Ask peers that the new hire will be working with to call the new hire to welcome them and make an introduction. A welcome call from the CEO would also be very meaningful.
19) Play the Long Game – In today's tight labor market, it's harder than ever to fill vacant roles with talented people. Yet for every job you post, there are many potential candidates who landed on your career site but didn't see an opening relevant to their experience. Stay in touch with these would-be candidates by using (or better utilizing) your applicant tracking software. This could include email campaigns, an invitation to lunch or an open house, or growing employers may consider making an early investment in talented candidates – hiring and training them before an urgent need exists. 
20) Retain Employees by Investing in Them – You've done the right things to hire the right talent. Now invest in ways to keep your employees working for you, rather than a competitor. Invest in ongoing training opportunities for employees to develop new and hone existing skills. Provide regular feedback and touchpoints from managers. Strengthen mentorship programs by providing resources and incentives for active participation. According to a 2016 Gallup study, millennial turnover alone costs the U.S. economy $30.5 billion per year. Reduce turnover by investing in your people.
21) Work with a Recruiter – Sometimes you just need to go with the most convenient option. Working with recruiters who are experts in the field saves you time and effort. Finding qualified candidates requires considerable effort and knowledge. You need to know exactly the kind of qualifications your candidate should have and the skills they need to do the job. When it comes to practical steps to finding the right people, it's easy to get overwhelmed. It makes sense to work with an experienced and qualified recruiter who can help find and screen talent, and also offer advice such as these tips. In the end, you're always going to do the final interview and make the final decision. Infinite Laundry has the scalable staffing resources and employer branding tools to help businesses in our industry of any size. Working with them will help you save time and focus on your business.
While none of us can predict the future or the economy, we can guarantee this: Recruitment will be defined by innovation, technology, and obtaining passive candidates — and the organizations that embrace these will have greater success at recruiting the right employees for the long haul. 
About Infinite Laundry and the Author: Headquartered in the Fort Lauderdale, FL area, Infinite Laundry provides recruiting and marketing services exclusively to the commercial laundry, linen and uniform industry – with little to no upfront costs, and a placement guarantee!
Matt Smith is the Director of Recruiting at Infinite Laundry and has a background in the industry, having been a route rep, a service manager, and eventually a GM, who led and grew his family's linen and uniform service business before pursuing a career in talent acquisition. Matt is also trained and certified by ADP's Advanced Internet Recruitment Strategies (AIRS), the global leader in recruitment training. Contact Matt at [email protected] or 518-848-1028.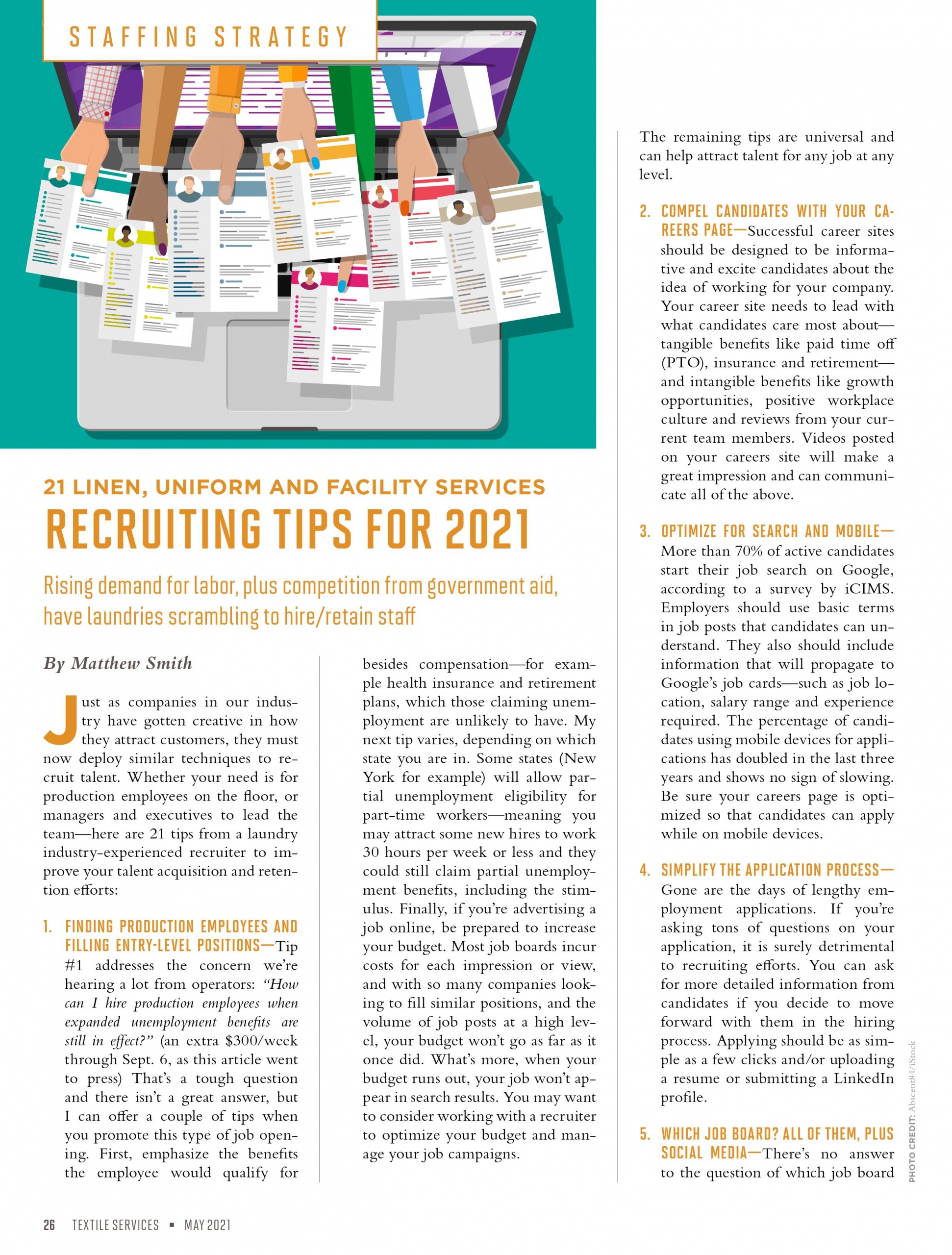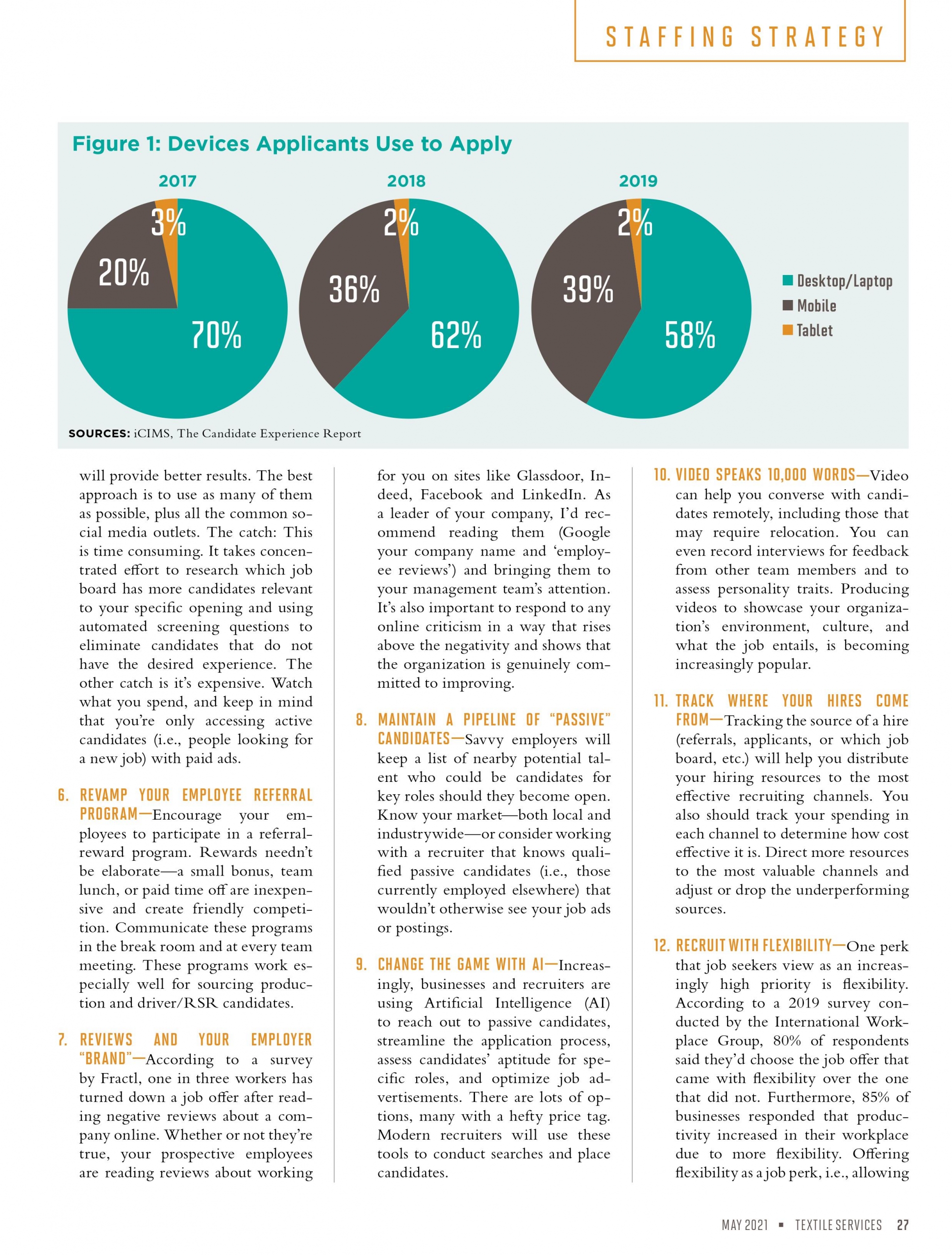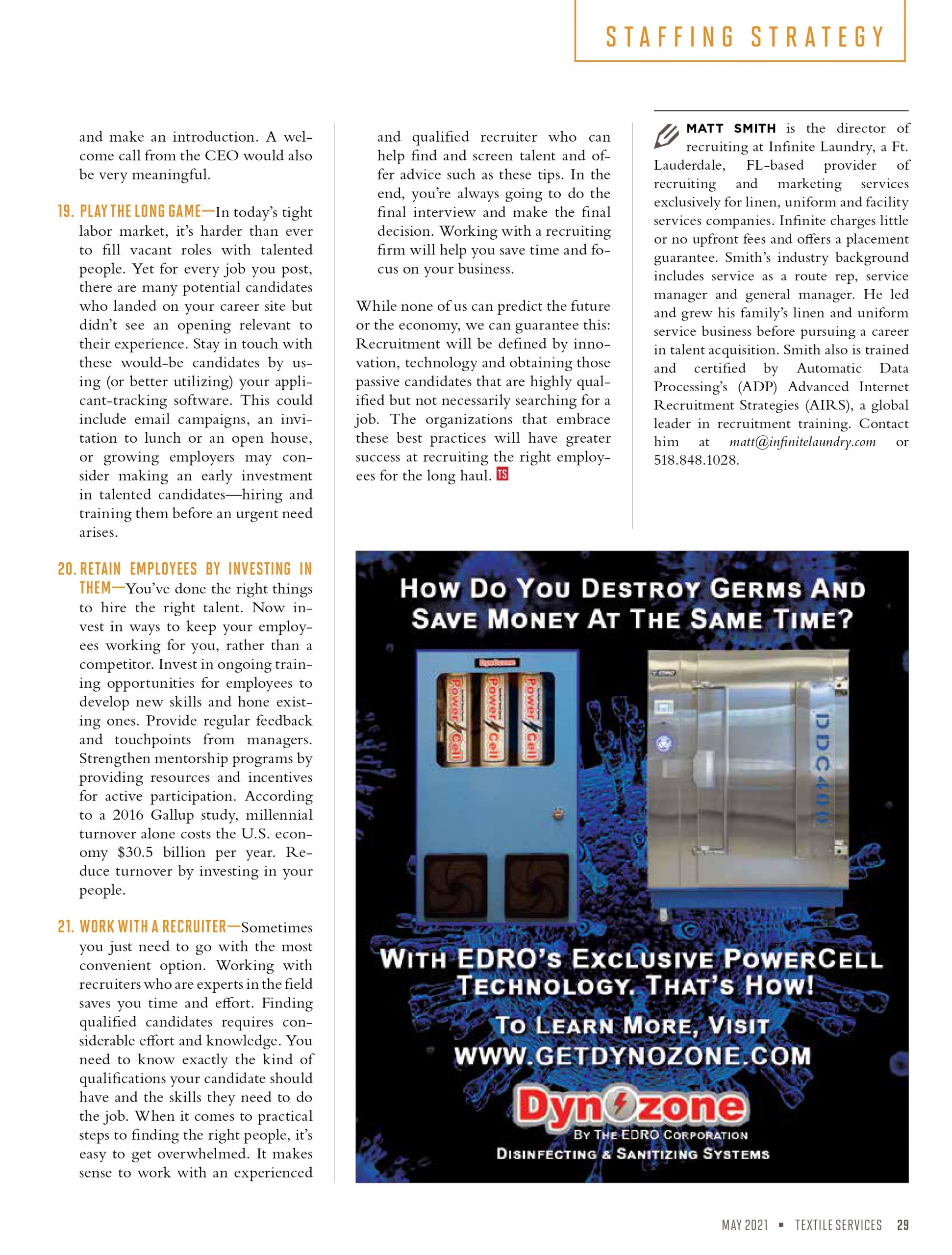 ---